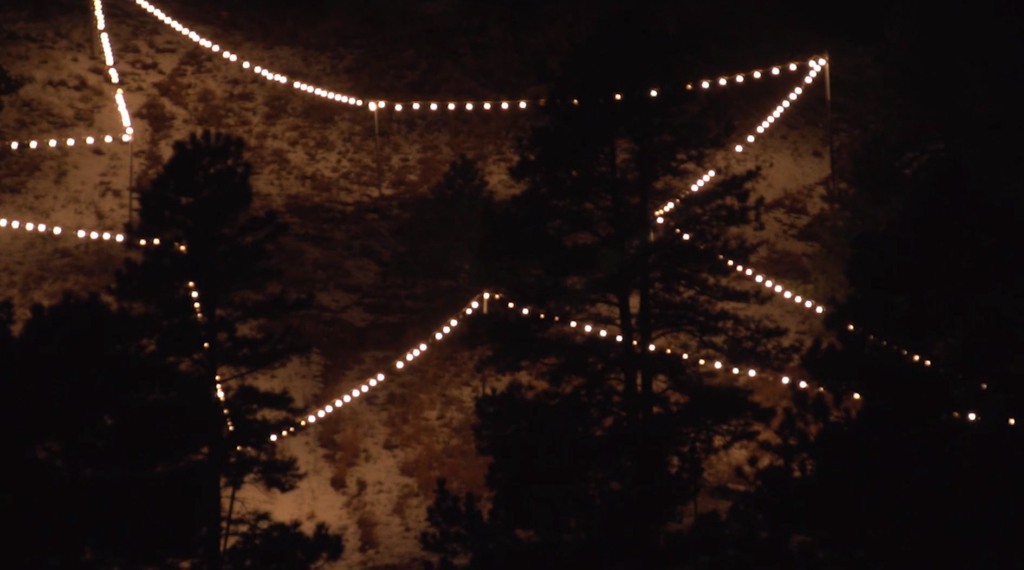 The holiday season in Boulder officially kicks off once the star on Flagstaff turns on. It's a tradition that has been going on for over 75 years, with the star being a cornerstone of the holiday time in Boulder. Even with the Flagstaff Star being a beloved local tradition, it hasn't been shielded from controversy, vandalism, and local political debates.
The Flagstaff Star came to life in 1947 as a Christmas decoration from the city of Boulder to the residents. However, during the following season the Boulder Chamber of Commerce decided to convert the star into an Easter Cross. The formation of the lights rotated from a star to Easter Cross for the next two decades.
In the 1950's, Colorado A&M (now Colorado State University) targeted the star for a series of pranks aimed at their University of Colorado rivals. The first prank was in 1951, when students moved the lights of the star around to form an "A." In 1958, a group of students from the Colorado School of Mines mimicked the prank from earlier in the decade to form the star into the letter "M."
The pranks turned from harmless to more damaging and politically motivated in the 1960's when suspected Communists continuously painted the bulbs of the star red as an attempt to recreate the famous red communist star.
In 1969, the star was constructed into a giant peace sign rather than the traditional star or cross. That very same year, a handful of Boulder residents filed a complaint with the Boulder Human Relations Commission regarding the star and cross. The group claimed that the star and cross formations were in violation of church and state because both symbols were Christian symbols. The debate regarding this continued on for a year, but, in the end, the star remained in place.
By the time the 1980's rolled around, the star became the target of more intentional vandalism. The most notable act of vandalism towards the star happened this time. A group of local environmentalists were upset with the use of the extra electricity needed to power the star… so they cut down the wires, removed the bulbs, and declared the star a terrible wasteful man-made object that both wasted energy and disrupted wildlife.
Today, the Boulder Chamber of Commerce continues to maintain the iconic mountain-side symbol.
"The Flagstaff Star is a treasured community tradition," said John Tayer, CEO and President of the Boulder Chamber of Commerce. "We're very honored to be the caretaker of that tradition."
Recently, the star has had a few updates to make it more environmentally friendly. All 365 bulbs were replaced with long-lasting LED lightbulbs and the electricity used to power the star is generated using wind power.