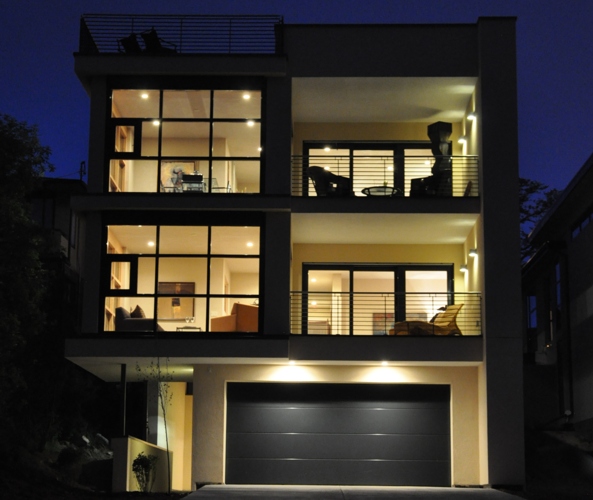 If you're not quite in the market for a new home (yet!) and just want some brilliant design inspiration to freshen up your current abode, then this gallery of 2002 Alpine, located in Boulder, is sure to ignite your inner designer and truly inspire you. The home, completed in May 2010, was designed by Studio H:T, built by eco-luxury builders Vireo, and engineered by German company WeberHaus. The home is right around 4,300 square feet in size and located cliff-side.
The interior of the home has a very clear European-inspired look. You'll notice sleek cabinetry and a very open floor plan, giving the home modern, comfortable, and functional attributes. As an added bonus, the home is eco-friendly and only requires 1/5 or less energy than the average American home. The home was also built in an especially eco-friendly way by creating only 1-2% waste during the construction process versus 17% waste created for the average home constructed in the United States.
A press release on the home provides further insights:
"The home's contemporary design incorporates its perfectly-appointed views and sustainable outlook, featuring stunning full-sized windows, warm sandstone and clay interiors, European-inspired open spaces, and hyper-modern finishes. From its rooftop terrace with photovoltaic solar panels to its showpiece kitchen, luxurious master suite, theater room, and wine cellar… 2002 Alpine does not scrimp on a single detail.
2002 Alpine was constructed by WeberHaus, which sourced the home's bespoke timber from consciously-managed forests and engineered its components in a climate-controlled precision factory environment. Built for an eco-friendly lifetime, 2002 Alpine's interior is entirely hypoallergenic and non-toxic. Its cutting-edge CAD-CAM construction process resulted in hyperprecision (±1/2'' over a 100-foot span) while creating only 2% waste on average (as compared to the usual 17% waste generated by construction on an average home in the US). The first Colorado home pressure-tested to 100 psi, 2002 Alpine promises to use a mere 18% of the typical energy consumed by America's average home."
Enjoy the rest of the gallery below: